Download E-Blah
Thank you for your interest in E-Blah! Before you can download and install E-Blah you must first agree to abide by the the terms of the GPL license agreement.
If you would like to have your forum professionally installed by E-Blah, please check our install pricing.
Development notice:
As of September 2012, E-Blah is no longer under active development. While there could be additional upgrades in the future, current development on the project has ceased. Any development changed will be added to the
E-Blah GitHub page
. If users would like to contribute to the project, please send pull requests on GitHub.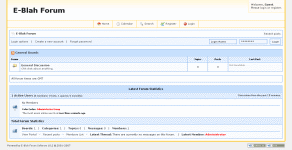 Release Date: 9 August 2008
Version: 10.3.6
File Size: 944.34 KB
View server requirements
Download the E-Blah Template Editor.
Language Packs for 10.3.6
Please understand that the following language packs are only compatible with the current version. There are older language packs available under Add-ons and Older Packages.
Language Name
Size
Downloads
None are currently available for this version. There are, however, translations available for older versions.