Download E-Blah
Thank you for your interest in E-Blah! Before you can download and install E-Blah you must first agree to abide by the the terms of the GPL license agreement.
If you would like to have your forum professionally installed by E-Blah, please check our install pricing.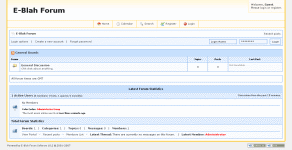 Release Date: 9 August 2008
Version: 10.3.6
File Size: 944.34 KB
Unique Downloads: 427
View server requirements
Language Packs for 10.3.6
Please understand that the following language packs are only compatible with the current version. There are older language packs available under Add-ons and Older Packages.
Language Name
Size
Downloads
None are currently available for this version.
Latest E-Blah Nightly
These are zipped packages of the latest version of E-Blah (these are "pre-release" versions). They are packaged every night around 3am CST. These are upgrade-only versions of E-Blah. They are not meant for new installations.
View Available Packages Sorted by Date
E-Blah SQL Beta
There is an SQL beta version available. It is not by any means complete or in fully working status. You should check out the thread about it on the E-Blah Community before using it.
Download E-Blah SQL Beta 3.5 (1482 downloads at 745.62 KB).
Add-ons and Older Packages